In 2020, the Ministry of Industry and Information Technology, Ministry of Agriculture and Rural Affairs, and Ministry of Commerce jointly issued a notice to promote electric vehicles (EVs) in rural areas. In response, State Grid quickly released 10 supportive measures. This year, the company announced further plans to invest more in improving EV networks to help rural drivers go electric. With pilot projects to be implemented, the Yangtze River Delta promises the first region in China where charging facilities cover all towns. Villagers will get the amenity of EV charging in the vicinity of their homes, contributing to the construction of beautiful villages with green, low-carbon travel.
Charging Facilities Matching EV Growth
At the charging station for EVs near the high-speed railway station of Liyang, Jiangsu Province, Wang Qinghong, a driver on bus route 12, unplugs the charging cable and slowly pulls off a brand-new electric bus to the stop outside the high-speed railway station to begin his work for the day.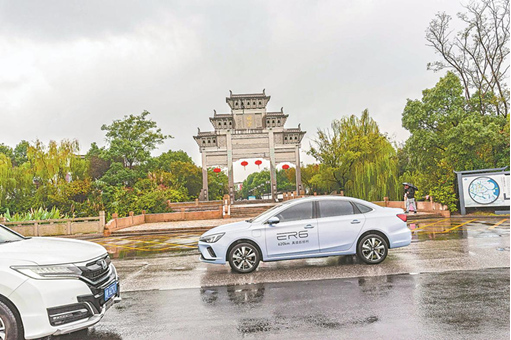 An EV exhibition held by State Grid Suzhou Power Supply Company in Tongli Ancient Town
State Grid Jiangsu Electric Power Company is pressing ahead with its charging network expansion in rural areas to cover counties, towns, and villages, with facilities at key locations such as service halls, shopping centers, and transportation hubs.
The first charging station invested and developed by municipal EV company under State Grid Jiangsu was put into operation on January 4 at the bus stop outside Liyang's high-speed railway station. The charging station, comprised of 10 120kW double-charger DC piles, is able to charge 20 electric buses at once. Meanwhile, State Grid Jiangsu is investing more in charging piles in rural areas. By the end of 2020, the company had built a total of 4,838 charging piles in the towns and villages of Jiangsu. It plans to build over 1,000 new charging piles in these areas to advance the electrification of rural transportation and facilitate the implementation of the rural revitalization strategy in 2021.
Apart from public transportation, State Grid Jiangsu has managed to build charging facilities in rural communities so that EV owners can charge cars in their neighborhood. This year, the company plans charging piles in newly built rural communities for staggered, smart, and orderly charging, and thus more EV owners can be plugged in.
Building more charging facilities is essential for charging needs while winning rural consumers' recognition of EVs is also important for tapping into the market potential. From September to December 2020, State Grid Jiangsu launched a campaign to promote EVs in conjunction with entities such as the Industry and Information Technology Department of Jiangsu. It formulated EV charging programs suitable for rural areas and established a product portfolio encompassing multiple categories such as private electric passenger vehicles, electric buses, and electric taxis, meeting the needs of rural travels, farm transportation, and agricultural production. It promoted EVs through such means as EV parades, unmanned vehicle rides, charging pile demonstrations and guidance, and webcasts. During the campaign, some 20 best-selling models of more than 10 top brands were displayed in the countryside with discounts ranging from CNY 1,000 to several thousand available for on-site bookings.
With so many vehicles sold, supporting services are ready. Hand in hand with the push to boost rural sales, State Grid Jiangsu had set in motion EV experience centers in 13 prefecture-level cities by the end of 2020, where basic functions like vehicle exhibition and test drives, plus a variety of services from selection and purchase of cars, finance and insurance, to installation of charging piles, are up for grabs. Following the "one meter per household" standard, State Grid Jiangsu installs charging piles without approval process, footwork, and extra cost for customers. Electricity meters and power supply facility connecting the meters are installed at the expense of grid companies. Customers also enjoy the convenience of applying for charging piles through the State Grid Online app.
During the campaign in rural areas from September to December 2020, 40.8 thousand EVs were licensed in Jiangsu, up 174.2% year on year, accounting for 54.7% of total licensed in the province across the year. In 2021, the figure is expected to grow by more than 100%.
Charging Piles Built on the Doorstep
On January 24, Yang Hongbo, a family-run hotel owner in Henggang Village, Yaozhuang Town, Jiashan County, Zhejiang Province, drove to the "e-Charging Station" at the entrance of the village to charge his EV. "With a charging station nearby, charging has become super convenient. More and more people in the village want to buy EVs," said Yang.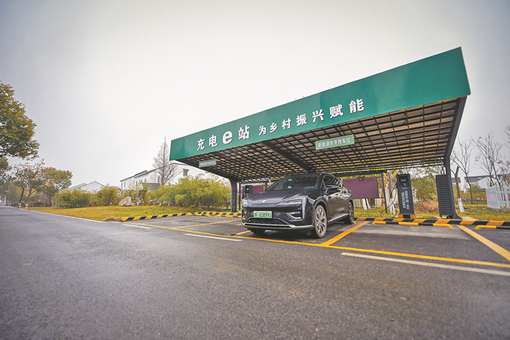 A villager's EV charging at the "e-Charging Station" in the scenic area of Henggang

Driven by preferential policies, rural areas have seen substantial growth of EVs. To better serve the EV owners, State Grid Zhejiang Electric Power Company is stepping up efforts to build charging facilities, improving comprehensive power supply system, and shortening the service radius.
Low-carbon and green EVs are showing up in the beautiful Yaozhuang Town, part of the demonstration zone for the eco-friendly and integrated development of the Yangtze River Delta. Last November, Jiashan County Power Supply Company joined hands with Henggang Village Committee to build two charging stations, including one "e-Charging Station" integrating photovoltaic generation, energy storage and charging functions. "The two stations could charge eight vehicles simultaneously," said Qin Yingjie, marketing specialist from Jiashan County Power Supply Company.
After the charging stations in operation, many villagers, including Yang Hongbo, started to consider buying EVs. "A vehicle will come in handy since I often need to buy materials and groceries or carry visitors," said Yang. With a charging station next to his guesthouse, he purchased an EV, and charges by simply scanning a QR code. To encourage green travel among villagers, Jiashan County Power Supply Company has launched favorable price for EV charging. "The price is one yuan per kilowatt-hour, which is cheaper than that in town," said Yang Hongbo with satisfaction.
With charging piles in place, all-around power supply services are matching up. Fei Jianwei, deputy leader of the low-voltage service team from Xitang Power Supply Station, has taken on a new duty: a service representative to Henggang Village's charging stations. His job is to regularly examine the charging piles, maintain their normal operations, and keep usage logs. Fei visits the station for inspection every week, prepared to resolve issues.
As for now, in the 74-square-kilometer Yaozhuang Town, more than 20 sets of charging piles are planned for operation in June this year, putting an end to the "range anxiety" of EV owners there.
In order to further popularize EV in rural areas, State Grid Zhejiang is accelerating the development of battery swapping and charging network across the province. Currently, the company has built 379 comprehensive power supply stations with 981 charging piles in urban and rural areas. Meanwhile, it creatively promotes business cooperation. Leveraging its EV business, State Grid Zhejiang pools strength of enterprises along the industrial chain, taps into the green travel ecosystem, and advance the urban-rural integration on public transportation. At present, the company has built 2,395 charging piles for rural buses.
Charging Service Extending to Villages
Tian Lianjun, a resident in Zipeng Town, Feixi County, Anhui Province, takes a bus to work at 7:30 every day. Recently, her commuting has changed a lot. "I saw this kind of 'green buses' when I went to Hefei. It runs without noise or black smog, and looks clean and in fashion. Now we have them in our town," said Tian.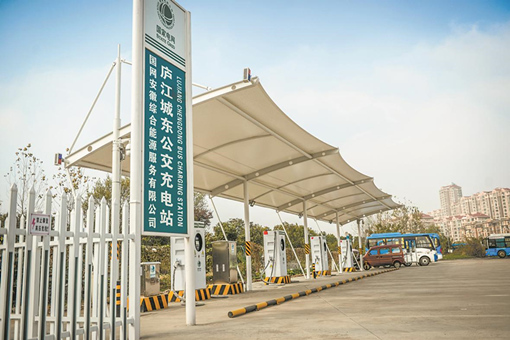 Lujiang Chengdong Bus Charging Station in Anhui Province
On January 24, Zipengshan Bus Charging Station was built in Zipeng Town with first 30 charging piles installed. Upon full completion, it will be the largest new energy bus charging station in rural areas of Anhui Province that can serve some 60 buses. As of now, all vehicles of No. 80 bus line plying between the town and downtown Hefei have been replaced by EVs.
As one of the first EV demonstration cities, Hefei has registered over 100 thousand EVs in total. Currently, more than 2,500 AC and DC charging piles have been built in one county-level city and four counties of Hefei. A complete public charging and battery swapping network across Hefei is now in place, which is the largest among provincial capitals.
While developing public charging facilities, State Grid Anhui Electric Power Company also extends its customized services to EV owners in towns and counties. On January 20, State Grid staff visited Ge Cunlin, a villager in Xinsheng Village, Luohe Town, Lujiang County to inspect his charging piles. Ge is the first local resident to buy an EV. "I was worried about charging the vehicle at first. So I asked about how to install a charging pile. The procedure seemed quite simple, so I made up my mind to buy an EV. State Grid staff even provided service to my door," said Ge with satisfaction. In villages and towns with basic infrastructure, an EV owner only needs to apply through the State Grid Online app. Afterwards, the account manager of the region will visit the owner and provide one-stop service. Charging facilities will be installed within a week on average.
For EVs to run safely over greater distances, State Grid Anhui has conducted market research, and worked with local government and transportation regulator to design charging and battery swapping network. The company plans ahead, gives priority to counties and villages, and has achieved urban-rural integration of such network covering cities, counties, and villages.
State Grid Anhui closely follows EV development, and helps popularize EVs by leveraging the clusters of local EV manufacturers. Its power supply service hall in the Feixi Industrial Park offers test drives of new-generation EVs, which can travel more than 400km after charging for five hours. Videos demonstrations of EVs are available in the service hall, and new counters are added to process applications for charging pile installation. A test-drive area is designated in the parking area.
Currently, State Grid Anhui has reached preliminary intent for cooperation with local EV manufacturers to sell their vehicles online. It is also working with public transportation companies, logistics firms, EV manufacturers and operators to improve charging network and promote charging business.