China made a landmark breakthrough in building the charging and battery swapping network for electric vehicle (EV). On November 20, at a press conference themed "New Infrastructure connecting a Million Outlets, New Impetus injected by Energy Internet", State Grid Electric Vehicle Service Co., Ltd. declared that State Grid's Smart Internet of EVs platform now integrates 1.03 million charging piles covering 273 cities from 29 provinces and serving 5.5 million EVs. It has become the world's largest charging network in terms of coverage, number of piles, and service capacity.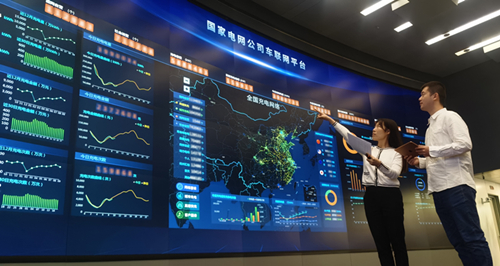 State Grid's technical staff conducts real-time monitoring and analysis of the operation of charging piles in its service areas from the Smart Internet of EVs.
Among the over 1 million charging piles, 626 thousand are for public use, accounting for 93% of the total public charging piles in China and 66% of that of the world; 380 thousand are private charging piles, which occupy nearly 46% of the total private ones in China. Henceforth, just with one app, EV owners may get access to charging service throughout the country, from backbone networks at various highways to charging piles widely seen in the fourth or fifth tier cities, and from charging stations for public transportation, environmental sanitation, logistics, etc. to shared private piles installed in communities with upgraded functions.
The wider use of new energy vehicles has required better infrastructure for charging and battery swapping. State Grid's Smart Internet of EVs is committed to building a network suitable for all scenarios so as to enhance customer experience with quality and convenient charging service. State Grid has been active in developing charging technology, business models, and demonstration projects since 2006. The company has thus accumulated rich experience in technology research on the interaction between EVs and the energy internet, and in business model innovation.
At present, through smart charging, EV owners can participate in auxiliary peak and frequency modulation of power grid by charging in load valley, which greatly reduces the charging cost, makes better use of charging equipment, and supports the safe operation of the power grid. At the same time, through V2G technology, the EVs can be used as mobile power storage stations, which allows them to send electricity back to the grid during peak load period, generating income through participating in peak load shifting.
As a bridge linking EV owners with the power grid, State Grid Electric Vehicle Service Co., Ltd. will act as a load aggregator in the future. It will integrate small and medium loads to trade in the power market, minimizing the impact of massive distributed loads on the grid. Leveraging technical means, it will guide loads to interact with the power grid in a timely manner. At the same time, it will bring EVs to the green power market, promoting the use of new energy by new energy vehicles.
At the conference, State Grid released the Report on the Application and Analysis of Charging Data from EVs in China for the first time. The report covers the whole EV industrial chain, and creatively integrates the EV driving big data with charging big data to analyze the charging behaviors of new energy vehicles in various settings. It provides theoretical basis for the proper layout of the charging network, offers technical support for the government to issue relevant policies, pursues coordinated development of people, EVs, charging pile sand power grid, and is of great significance to exploring new operation modes of the charging industry.