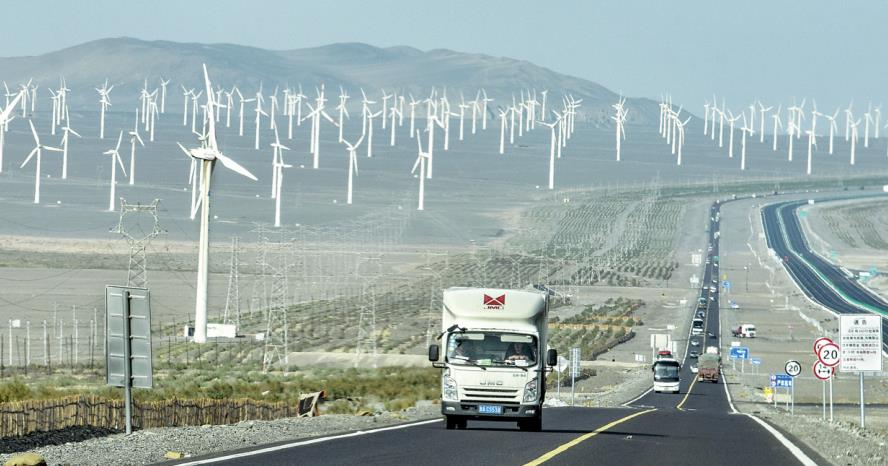 Vehicles pass a wind power farm in Turpan, the Xinjiang Uygur autonomous region. [Photo/Xinhua]
China is poised to transform its energy and transportation structures to promote low-carbon lifestyles nationwide and meet the green development goal proposed for the 14th Five-Year Plan (2021-25), Zhuang Guotai, vice-minister of ecology and environment, said on Tuesday.
Despite the progress made toward a low-carbon transition, coal still plays a major role in powering economic growth, Zhuang told a news conference in Beijing.
Data from the National Bureau of Statistics shows that coal accounted for 57.7 percent of primary energy consumption in China last year, down 2.7 percentage points from 2017.
"The country still needs to reduce its carbon consumption and increase the use of clean energy such as solar and wind power, especially in steel making and heating systems," Zhuang said. "We encourage people to purchase new energy vehicles instead of ones powered by gasoline."
He added that railways and waterways should replace highways as major methods of long-distance transportation to help cut pollution.
Motor vehicle emissions remain a major source of air pollution in China. The latest data from the Beijing Municipal Ecology and Environment Bureau said vehicles contributed 45 percent of PM2.5, a major gauge for air pollution, in the capital in 2017, more than the amount from industrial pollution.
To further control pollutants, Zhuang said, the government should continue to shut down or relocate highly polluting enterprises from densely populated cities to industrial parks, proceed with environmental impact assessment and environmental law enforcement "white list" policies and make them last.
The ministry uses environmental impact assessments to evaluate the potential environmental impact of a construction project before it starts. The "white lists" are used to exempt enterprises that perform well in environmental protection from frequent on-site checks.
Measures taken by authorities at all levels have paid off as China's environment has seen visible improvement in recent years.
By November, 88 percent of days had good air quality in 337 major cities, up 5.4 percentage points year-on-year.
Surface water has also become clearer, with environmental authorities rating 82 percent at or above Grade 3 in China's five-tier system, up 5.6 percentage points year-on-year.
Zhuang said the central government is exploring green development models suitable for cities with different pillar industries.
Last year, China issued a guideline about creating zero solid waste programs aimed at reducing the production of solid waste and minimizing landfill levels in 11 cities and five districts across the country.
Pilot projects in these areas were designed to see zero solid waste produced by the mining, agriculture, tourism and education sectors and households, the ministry said.