Recently, State Grid Online saw its registered users exceeding 100 million, making it one of the super-scale platforms. Since its launch in November 2019, the app realized the leap in less than eight months.
User curve of State Grid Online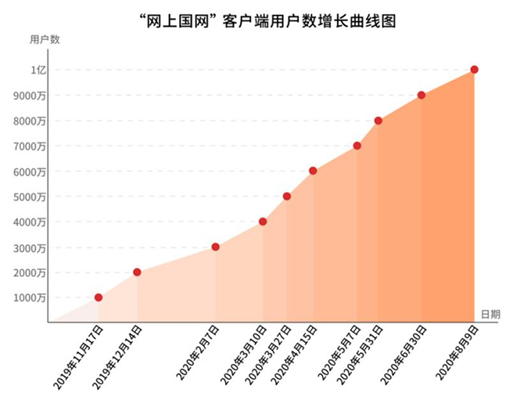 According to the company's strategy, State Grid Online is created and operated as a main portal for customers, while promoting the new digital infrastructure. From 0 to 100 million, users can enjoy 24/7 online service with 125 functions on getting electricity, payment, inquiry, etc. in five scenarios including residences, electric vehicles, shops, enterprises and new energy. The app satisfies the diversified demands of customers and provides benchmarks for online serves of public utilities.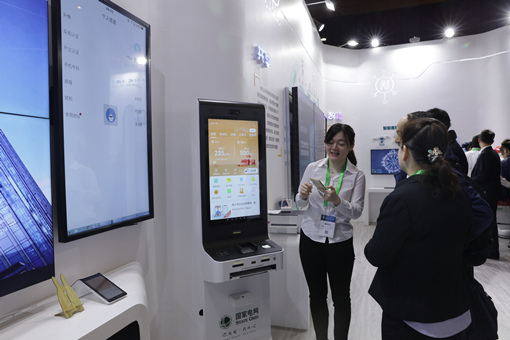 Employee introduces State Grid Online to users in the power supply business hall.
State Grid Online plays an important part in building the energy internet ecosystem. During the COVID-19 epidemic, the app allows application for electricity without visit to business hall. With QR codes and related functions, small and micro enterprises can have full access to power services and favorable policies in time. Businesses can pay bills and analyze costs with the app, which facilitates their work resumption. In addition, process to get electricity is streamlined and visualized, promoting the transparency of operation and the integration of traditional services with comprehensive energy services. Online, one-stop, document-free application for electricity has gradually become a new normal for customers.
As of August 9, the total number of registered users has reached 100.0969 million, with 61.0795 million linked to their power accounts, representing 84.1377 million households and 1.8461 million businesses. Monthly active users amount to 27.5009 million, 27.47% of the total. From January to July, the app has attracted 72.21 million new users (a total of 98.16 million by July), with 52.05 million payments and 6.3 million applications for electricity (5.65 million for low-voltage electricity and 650 thousand the high-voltage). Online application is becoming more and more convenient, effectively reducing the pressure on human resources. In the meantime, State Grid Online enhances the innovation of digital business hall and terminal derivative products, and pushes forward multi-channel integration, big data application and smart services, promoting the development of new digital infrastructure and industrial upgrading.