10 kV and Below Supporting Power Grids for "Coal-to-electricity" Project 2019 Completed
Recently, State Grid has completed 9,259 10 kV and below supporting projects to promote replacement of coal with electricity in 12 northern provinces in China, thus ensuring a warm winter for the public.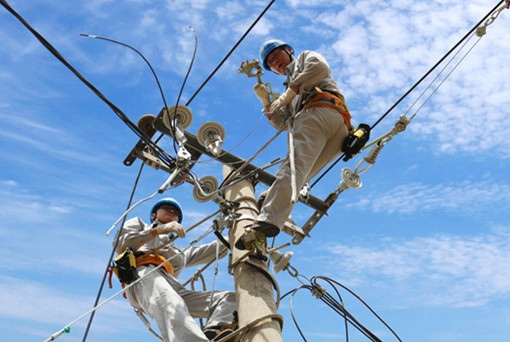 These projects directly concern the livelihood of people in northern China, which can ensure a warm and less hazy winter. They also serve as an important initiative to defend blue skies and are an important part in promoting the transformation of energy production and consumption as well as rural lifestyles.
The year of 2019 marks the most difficult year in implementing the national Three-Year Plan on Defending Blue Skies. State Grid actively carries out relevant decisions made by the CPC Central Committee and the State Council, established a coordination mechanism to solve the existing problems in a timely manner, and held a conference in Zhengzhou to promote the replacement of coal with electricity, ensuring projects construction and O&M. Moreover, to complete all projects by the end of October, the company also prepared schedules to reinforce process management. By ways of daily report, weekly analysis and monthly notification, as well as inspections and interviews, 17 key links in the whole process including project approval and materials procurement were monitored, making milestones achieved on time.
State Grid forged ahead and worked to overcome obstacles during the construction. It carried out asset life cycle management, making comprehensive designs on cable model, channel layout, project constructing and equipment selecting; emphasized standard construction of distribution grids, using standard materials and customized equipment; promoted factory prefabrication, complete set delivery, on-site assembly and mechanized operations, setting high standards on project acceptance. In addition, the company also improved on-site safety management and conducted safety cross check, achieving safety target of "zero death".
The "coal-to-electricity" project in 2019 benefits 3.72 million households in 19,684 villages across heating area of 230 million square meters. Among them, 3.4 million households in 18,479 villages were in Beijing, Tianjin, Hebei and key areas of Fenwei Plain. Power consumption for heating within State Grid's northern service areas will exceed 20 TWh during the 2019-2020 heating season. These efforts will lead to the reduction of carbon dioxide emission by 20 million tons, and sulfur dioxide, nitrogen oxides and dust pollutants by 6 million tons, saving 11 million tons of bulk coals. As a result, the energy saving and emission reduction is remarkable, further improving the public's happiness and sense of gain.