Cambodian Sanghe II Hydropower Station was put into operation
On 17th December, the Cambodian Sanghe II Hydropower Station was officially put into operation.Cambodian Prime Minister Hun Sen attended the ceremony and delivered a speech.He said,the completion of the Sanhe II Hydropower Station is another bridge to strengthen China-Cambodia friendship. We are grateful for the development opportunities brought to Cambodia by the "One Belt, One Road" initiative, and we firmly believe that the Sino-Cambodian relations will become better.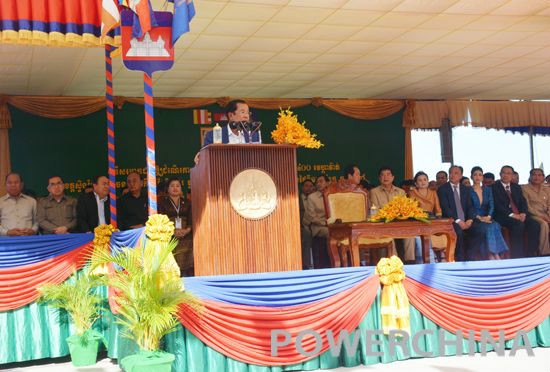 The Sanghe II Hydropower Station is known as the "Three Gorges Project" in Cambodia.The dam of the power station is 6500 meters long,is the first long dam in Asia.8 sets of Chinese-made 50,000-kilowatt bulb tubular units are installed in the dam, with a total installed capacity of 400,000 kilowatt, accounting for nearly 20% of the total installed capacity in Cambodia.The power station started construction in October, 2013.The first unit was put into operation on 9th December, 2017, and all eight units were put into operation on October 21, 2018. It took only five years for the power station to be built and put into operation, thus creating a record in the history of hydropower construction in Cambodia.
Under the guidance of the localization sttategy,Sanghe Project Department employed a large number of local workers and leased Cambodian equipment, which significantly increased the employment rate of local personnel and to a certain extent improved the living conditions of the local people.