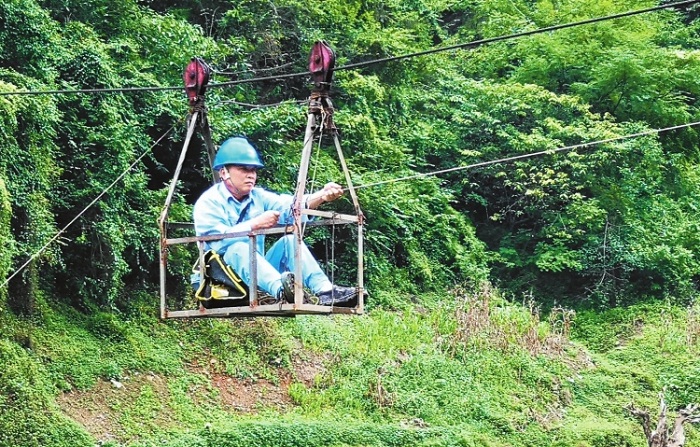 In the past, Wei had to cross the Sanglang River by zip line to perform his duties in the village.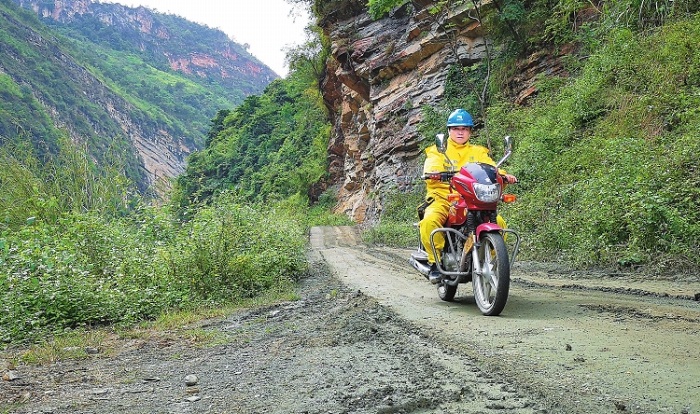 Now, Wei can enter the village by motorcycle.
Guizhou - Wei Dinghao indeed lives a charmed life.
"I believe that from now on, customers living in the village will have access to power supply that is intelligent, safe and stable, just like those living in the city. They are going to live a better life," said Wei at the relocation site of Gaochao Village which is located in Sanglang Town, Wangmo County, Guizhou Province.
Wei works at the Sanglang Power Supply Station which is a substation of Xingyi Wangmo Power Supply Bureau of Guizhou Power Supply Co., Ltd.
Prior to last year, in order to provide stable power supplies for residents living in the Jiufupo, Jiaochao and Jiaonong Village(s), located in the mountainous areas across from the Sanglang River, Wei and his colleagues had to routinely cross the river by use of a zip line more than 60 meters long to perform their duties.
The local villagers called them "Zip Line Electricians".
Wei and his colleagues experienced all kinds of hardships just to go to work every day. Once they were trapped on the zip line by an oncoming storm to handle an impending blackout in the village, and it was by the same villagers' help that they finally were freed.
Their continued hard work has been highly appreciated by the villagers.
Last May 31, at the relocation site of Gaochao Village, Sanglang Town, Wei and his colleagues visited a number of villagers' houses to inspect power lines and electrical installations.
With a recent relocations of the mountaintop villagers to a new relocation site, China Southern Power Grid has been upgrading the power grids for rural areas and replacing aged electric meters with new "intelligent" systems and instead of zip lining to read electric meters, Wei and his team are today managers who provide better customer serves to the newly relocated villager clients.