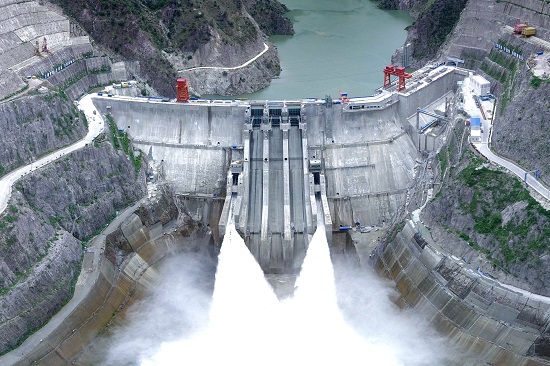 On 22:00 pm, July 5th, the first unit of Huangdeng Hydropower Station of Huaneng Lancang River Hydropower Inc. passed the 72-hour trial operation, and was formally put into commercial operation. The station is the largest hydropower project under construction in Yunnan Province.
Huangdeng Hydropower Station is located within the border of Yingpan Town in Lanping County, Nujiang Prefecture, Yunnan Province. It is a Cascade Ⅵ hydropower station on Lancang River Upstream from Quzika to Miaowei section under the Cascaded Development Planning. It has a total capacity of 1900MW, with 4×475MW Francis turbines. Its annual average generating capacity reaches 8570GWh.
During its ten-year construction period, Huangdeng Hydropower Station has vigorously implemented the innovation-driven strategy, profoundly promoted intelligent construction, and obtained 23 national patents, 4 Management Innovation Awards, 16 QC achievements, 9 industrial-level construction methods, 1 Technology Advancement Award, and 1 Design Award.
The roller-compacted concrete gravity dam of the station is the highest of its kind in the world, setting a new world record in core sampling of this type of dam. A digitized and smart IT system for management of dam concrete construction was developed and put into operation, which was regarded as domestically advanced during the corresponding period. The concrete for the dam construction is of high quality, and the gallery leakage rate is only 6 liters per second, setting a domestic record among the peer dam bodies with the same type and scale. The largest facility for artificial enhancement and releasing of fish on Lancang River has been successfully completed. The automatic and smart fish lifting project will be the world No. 1 in terms of fish lifting height once completed.