Guo Junming Met with the CEO of J.P. Morgan Chase GCB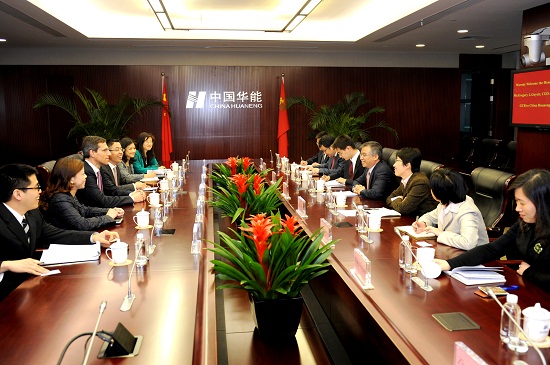 On April 19th, Guo Junming, Chief Accountant of China Huaneng Group, met with Gregory L. Guyett, CEO of J.P. Morgan Chase GCB. The two parties exchanged views on further strengthening cooperation in financial area.
Guo Junming extended welcome to Mr. Guyett and the delegation, and expressed gratitude to J.P. Morgan's support to Huaneng's financial business during the process of "Going Global". He said, as one of the largest financial institutions in U.S., J.P. Morgan Chase enjoyed profound fame in China and had sound cooperation with CHNG, HPI, as well as Tuas Power. With vast potential for development, Huaneng expected to deepen cooperation with J.P. Morgan Chase in overseas financing, capital operation and international investment to achieve mutual benefits.
Gregory L. Guyett expressed admiration to Huaneng's achievements and contributions to technological innovation. He told Mr. Guo that J.P. Morgan Chase attached great importance to the development in China and the cooperation with Huaneng. Experienced in overseas financing, J.P. Morgan Chase hoped to enhance cooperation with Huaneng and provide more customized services.
Before the meeting, Gregory Guyett visited Huaneng Supervisory Information Center and learned about Huaneng's business distribution as well as scientific and technological innovation.