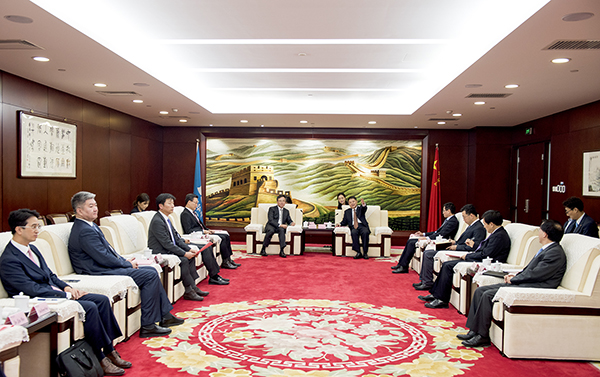 On February 15, CHD Chairman of the Board, Secretary of Party Leadership Group Wen Shugang met with Jang Dong Hyun, CEO of SK Holdings and his delegation, exchanging views on further strengthening cooperation. CHD Member of Party Leadership Group, Vice President Yu Bing and Yu Jeong Joon, CEO of SK E&S also attended the meeting.
Wen Shugang welcomed Jang Dong Hyun and his delegation and briefly introduced to them CHD recent progress of reform and development. Wen Shugang said that CHD has been focusing on power generation in recent years, and steadily developed related industries such as coal, finance, technology and engineering, actively promoted international business, so as to speed up process of developing CHD into a first-class international energy enterprise with global competitiveness. In the future, CHD will continue transformations from indemnificatory supply to increasing effective supply, from scale expansion to performance upgrade, from factors-driven to innovation-driven, promote changes towards better quality, higher efficiency, more robust driver, and improve quality of energy supply towards low consumption, low emissions, and high efficiency and promote high-quality development. As a world-renowned conglomerate, SK has great competence in terms of talents and technology and also enjoys good reputation in the world. He hoped that two sides will strengthen friendship and expand cooperation to achieve new progress.
Jang Dong Hyun expressed his appreciation for the warm welcome. He said that as one of the largest power generators in China, CHD has made respective achievements and will definitely realize its goal of becoming a first-class energy enterprise in the world in the near future. As the thrid largest conglomerate in Korea, SK has gradually formed energy and chemical, information telecommunication and semi-conductor as its two pillar industries. He hoped that two sides will leverage respective advantages and deepen practical cooperation to achieve mutual benefits and win-win results.
Prior to meeting, Jang Dong Hyun visited CHD exhibition hall. CHD heads of relevant departments and China Huadian Green Energy Co.,Ltd, representatives from SK holdings, SK E&S, SK China also attended the visit and meeting.