From January 6 to 7, an "overlord" cold wave hit many places across China, causing temperatures in those areas to drop to a record low since the beginning of the 21st century. Besides a spike in temperatures, Beijing also suffered strong chilly winds. As a centrally administered energy enterprise with a great sense of responsibility, GD Power Development Co., Ltd. under China Energy took active actions to formulate thorough plans to respond to the cold wave. It strengthened equipment checkups and patrols to guarantee fuel, power and heating supply for Beijing residents.
To ensure power and heating supply, GD Power implemented various measures, such as reinforcing equipment checkups and patrols and conducting regular equipment testing and replacements. Meanwhile, according to winter operating standards, it strengthened the measure to keep key equipment warm, ensuring that all kinds of pipelines, valves and meters as well as heating devices worked well to prevent equipment from bursting in extremely low temperatures.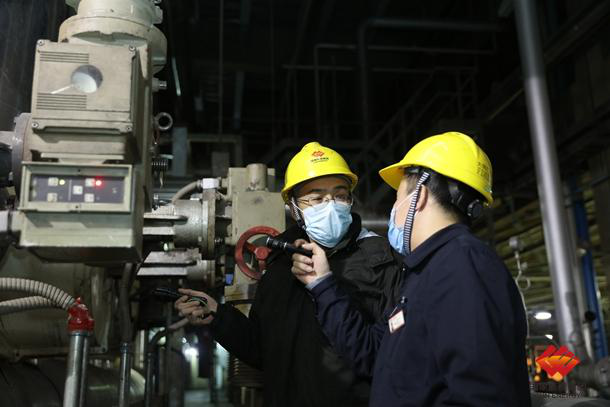 Staff members of the Datong branch of GD Power check equipment to ensure stable power and heating supply.
To respond to this cold wave, GD Power prepared supporting supplies and spare parts in advance, greatly enhancing its emergency response capacity for extreme weathers and ensuring all repair and maintenance supplies are ready and replacement parts are in place. It also adopted a rational operational approach, took effective measures to address emergency pipeline leakages, set up necessary isolating valves, improved the heating pipeline layout, conducted regular checkups of heating water circulating pumps, pipelines and sliding trestles, expansion joints and other equipment, and eliminated hidden safety risks of the heating pipeline network in a timely manner.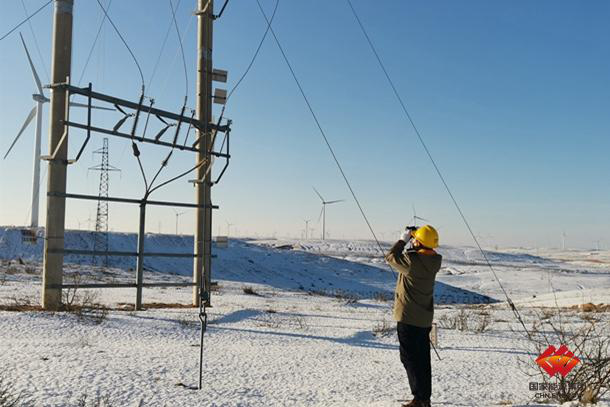 A worker of Ningxia New Energy Wind Farm checks whether the power lines are covered by ice during a patrol mission.
In terms of fuel supply, the company carried out field surveys at key coal mines, railways, ports and distribution stations to gather real-time information related to production, transportation, sales and storage. It also paid close attention to information about policies concerning epidemic prevention, safety, environmental protection, overloading control and highway-railway combined transport, maintained contact with large state-owned coal mines and strengthened communication and coordination with key coal enterprises to open up multiple channels for coal transportation. While stabilizing domestic coal suppliers, it also explored overseas sources of coal supply to ensure stable supply for coal-fired power plants.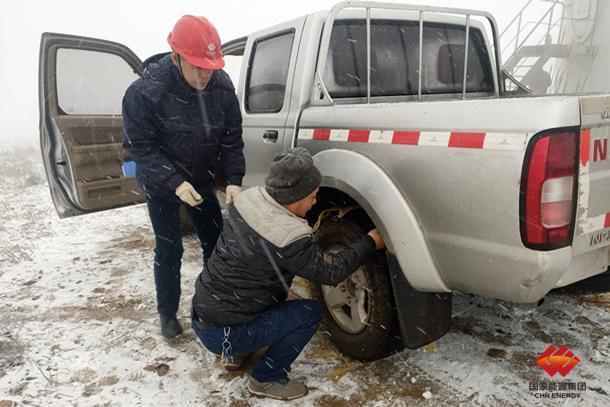 Workers of Anhui Wind Power Co., Ltd. install antiskid chains onto the tires of their pickup as they encounter a heavy snowfall during a patrol mission.
The Datong branch of GD Power is one of the main power suppliers for Beijing. It implemented a 24-hour on-duty system and set up a special team to ensure malfunctions could be found and solved at once and power generation units operated in full capacity. In addition, it kept close contact with Beijing's heating supply company to adjust heating temperature and pressure and water temperature and pressure in a timely manner according to the heating load curve. It also took measures to maximally reduce heat damage of pipelines to ensure their smooth operation and stable heating supply for residents. The Dakai plant established a group to guarantee safe heating supply. Based on lessons drawn from the past years and a review of major risks, the group formulated a document to clarify a series of measures including emergency response to major equipment failures, fire prevention for key projects, and preventing overloads of generation units during the heating season, with an aim to guarantee heating supply to resist the cold wave. Shandong New Energy Co., Ltd. organized its employees to strengthen electric equipment patrols once every two hours to ensure all equipment operated in a controllable way. It also conducted thorough safety checkups on vehicles and equipped them with antiskid devices to ensure safe, reliable operations of production equipment and traffic safety.