The 4th China International Import Expo (CIIE) opened in Shanghai on November 4. Relying on the CIIE global sharing platform, China Energy signed medium and long-term strategic cooperation agreements and purchase contracts with 38 Fortune Global 500 companies or leaders in respective industries from 13 countries and regions including Indonesia, Mongolia, Germany, and Switzerland on the morning of November 5. Intended to carry out cooperation in fields like coal supply, new energy technology, high-end equipment, and bulk raw materials, the contracts were valued at a total of US$1.8 billion, an increase of 49.6 percent year-on-year, with procurement category and contract value both hitting a new high.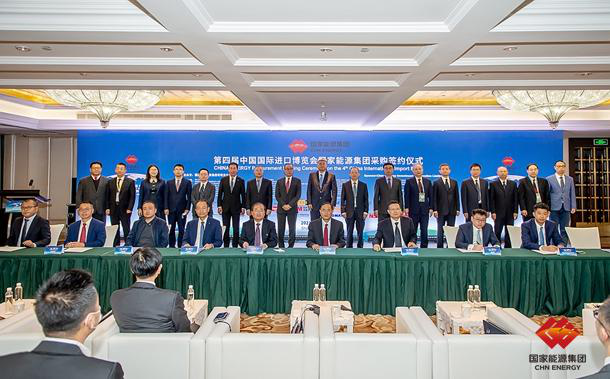 At the on-site contract signing ceremony for centrally administered state-owned enterprises, China Energy signed a strategic cooperation agreement with Siemens, according to which the two sides will strengthen all-round collaboration in clean energy such as hydrogen power and offshore wind power, promote coordination and complementarities of their new energy businesses , integrate into the global new energy innovation and development system, and build a new model of international new energy cooperation. China Energy United Power Technology Co., Ltd. and Siemens Gamesa signed a memorandum of understanding, according to which the two companies will expand and deepen strategic cooperation in large-scale offshore wind power development and low-carbon technology.
During this year's CIIE, the purchase delegation of China Energy conducted a tour of exhibition halls for technological equipment, service trade, etc. to survey new products, technologies and services, communicate with exhibitors, and thoroughly learn about current international technological trends in realms such as green hydrogen power, mining machinery, offshore wind power, and low-carbon technology. They also held trade talks with leading suppliers of imported equipment and services at the expo to explore new realms for cooperation and new opportunities for mutually beneficial development.