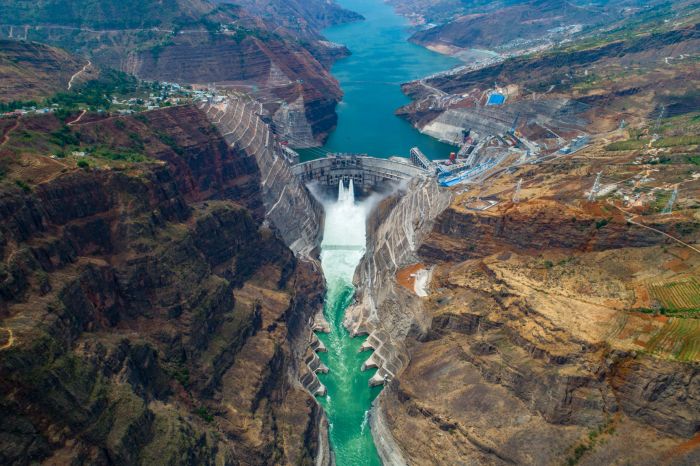 The construction of the main structure of the Baihetan Hydropower Station in southwest China has been completed. The water project is believed to be the world's second largest in terms of installed capacity, after the Three Gorges Dam. Meng Qingsheng reports.
After roughly 50 months of pouring concrete, the main section of this massive dam has been completed. Construction of the 289-meter-high dam involved more than eight million cubic meters of cement concrete. The material was specially designed by Chinese experts to prevent possible thermal cracks, which can occur due to changes in temperature. The water project has an installed capacity of 16 million kilowatts, capable of producing over 62 billion kilowatt-hours of electricity per year. That's more than 15 times the energy produced by the Hoover Dam in the United States. It can help reduce China's carbon dioxide emissions by more than 51 million tons a year.
CHEN WENFU Chief Specialist, Deputy Director of Baihetan Engineering & Construction Department China Three Gorges Corporation "We have built the world's largest new energy corridor along the Yangtze River and Jinsha River. And we're doubling efforts to develop other forms of energy like wind and solar. It's our plan to deliver a steady supply of green energy to all parts of the country, and help achieve its carbon dioxide emissions peak before 2030."
The hydropower station is equipped with 16 homegrown generating units, each with a million-kilowatt capacity – the largest in the world.
QIN DAQING Deputy Chief Engineer Harbin Electric Machinery Company Limited "There are two types of innovations in development of the generating units. One is the capacity of each generating unit has been increased from 800,000 kilowatts to one million kilowatts. The other is the water turbines use runners with both long and short blades. It helps ensure efficient and stable turbine operation."
Baihetan Hydropower Station is located downstream of the Jinsha River, in the upper section of the Yangtze River.
It sprawls across Ningnan County of southwest China's Sichuan Province and Qiaojia County in neighboring Yunnan Province.
MENG QINGSHENG Chengdu, Sichuan Province "The hydropower station serves as the backbone of China's west-to-east power transmission project. It's expected to help solve the problem of unbalanced power supply across the country. Apart from generating electricity, the station also plays a role in flood and sand control, as well as improving navigation."
In terms of installed capacity, Baihetan Hydropower Station is second only to the Three Gorges Dam in the central province of Hubei. The first batch of its generating units will go into operation in July this year. And one year after that, the world's second largest hydropower station will become fully operational. Meng Qingsheng, CGTN, Sichuan Province.
From:CGTN