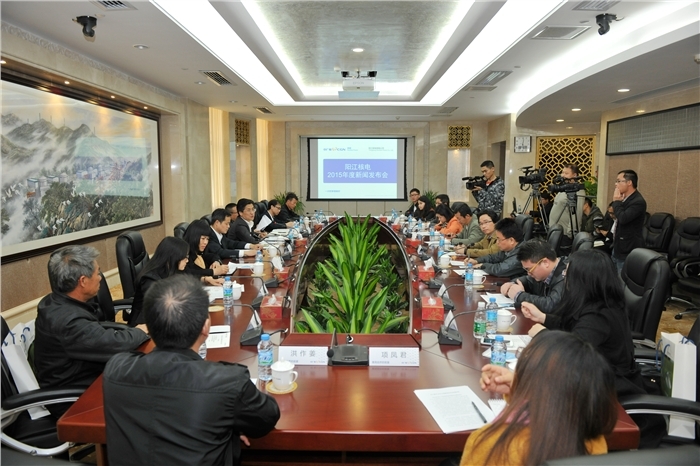 On the morning of January 30, Yangjiang Nuclear Power Co. held a press conference to reveal information to the community about nuclear construction, safety production in 2014 and exchanged views with public on issues of concern. Nearly 30 people attended the press conference, including journalists from Southern Daily, Yangjiang Daily, Yangjiang TV, Yangjiangnews.com, Yangdong TV, distinguished guests who care about Yangjiang nuclear power development and other representatives from the surrounding communities.
During the conference, Yin Xiong, deputy general manager of Yangjiang Nuclear Power Co. briefed the operation performance of Unit 1 of Yangjiang NPP, engineering progress of other units under construction and the fulfillment of social responsibility. By the end of 2014, the unit 1 of Yangjiang NPP has operated safely and stably for 282 days, with annual net power generation exceeding 6.793 billion kWh, satisfying the need of 2.5 million households.
When asked by Yangjiang TV Station about the discharge of the three wastes and environmental effects during the operation of Unit 1 of Yangjiang NPP, Yin Xiong clarified detailed data of nuclear and radiation safety information platform, and explained that wastes are discharged only when treated strictly in accordance with the requirement and up to the relevant national standards, and the plant will have no obvious effects on the atmospheric environment, marine ecosystem and farm products.
The attendees visited the nuclear science exhibition hall and the construction site after the press conference.